Rambling Dog Publications' mission is to help animals help people. That sounds backwards to some folks. Certainly we humans help animals (we buy their food and toys, right?) in many ways. But animals give as good as they get. And they have for eons, providing humans with food, clothing, transportation, labor, inspiration, recreation, companionship and more that allowed civilization as we know it to evolve.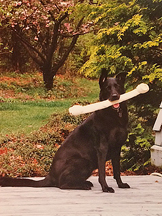 As the relationship between animals and humans continues to evolve, Rambling Dog's offerings explore the growing awareness of the ways animals often act as teachers, sounding boards, spiritual guides, and life coaches for the humans they connect with. We hope to amplify the barks, meows, and whinnies, the nudges and nuzzles, the bites and barks and the myriad other ways that animals speak to us as we continue the eons-old dialogues between animals and people.
By the way, there really was a rambling dog that inspired our name. Tory was one of 11 coal black pups born to a German shepherd mom who escaped from a barn for a tryst with the muscular hulk of a yellow Lab over yonder (whoops). Tory burst into being eager to learn and experience everything about life on earth from her beginning to her end. She grew into 105-pounds of boundless energy and curiosity with a goofy charm that endeared her to all who made her acquaintance. (You may note her resemblance to our logo.) She is one of the dogs illustrated in I HEARD YOUR DOG DIED: Imaginings for Those Who Have Lost Pets authored by Bonnie Kreitler. Tory will be featured in the book's soon-to-be-released companion I HEARD YOUR DOG DIED: Story & Coloring Book and in a blog post if you'd like to know more about her.
We'd love to keep in touch with you! SIGN UP for our newsletter and:
Get the first chapter of the book NOW and start reading.
Be the first to know when the I HEARD YOUR DOG DIED: Story & Coloring Book is released in 2017 featuring the stories of the dogs illustrated in the book alongside full-page renderings for you to color and make your own. You'll get a SPECIAL PRE-PUBLICATION SAVINGS offer and a FREE sample coloring page to enjoy until your book arrives.
Get alerts about blog postings about the book's back story, the dog stories, how to draw your own dog, grief resources and more.
Be first in line for savings on our next releases!
Save