I HEARD YOUR DOG DIED: Imaginings for Those Who Have Lost a Pet
When a youngster's dog dies tragically, a caring neighbor engages the child in a series of conversations offering perspectives on death, animal souls and the roles animals play in our lives. As the two neighbors explore the wrenching emotions of deep loss, the youngster follows encouraging suggestions that allow a shift from despair to acceptance and lead to a surprising conclusion that neither of them imagined.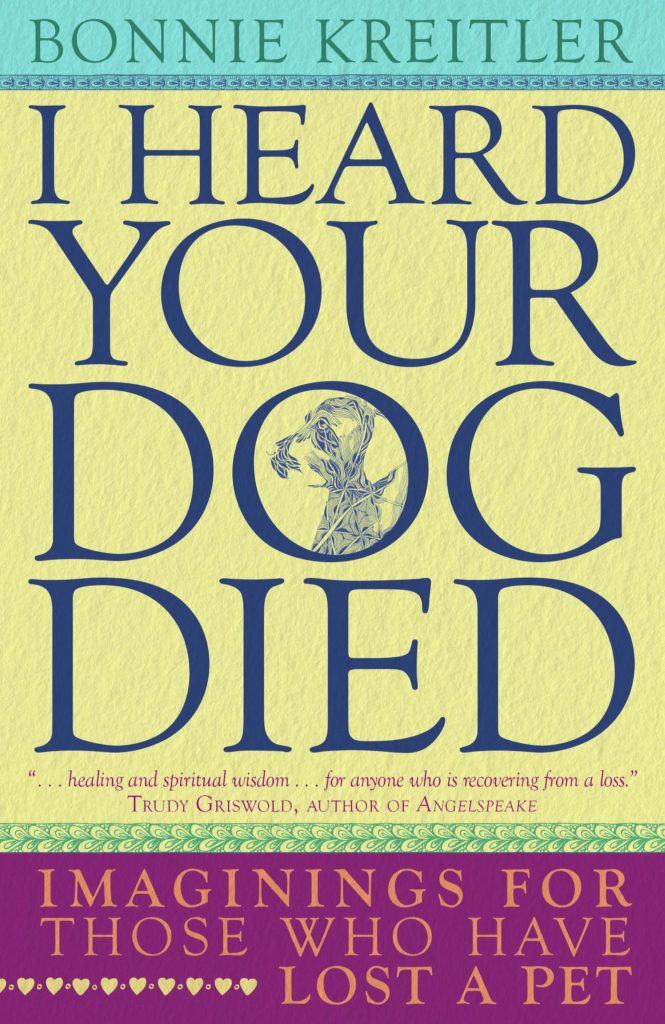 Fetch more information about the book here…
Buy now at Amazon.com | Barnes & Noble | Seattle Book Company |IndieBound | Books-A-Million | Kobo 
Sign up for our newsletter to get an alert when the e-book version of I HEARD YOUR DOG DIED: Imaginings for Those Who Have Lost a Pet becomes available!
NEWS JUST IN!

We strutting around and wagging our tails because we've just learned that

I HEARD YOUR DOG DIED is a SILVER MEDALIST

in the Body, Mind, Spirit category of the 2017 Ben Franklin Awards for excellence in publishing

given annually by the Independent Book Publishers Association

Have a biscuit (virtual, no crumbs in your computer) on us!
---
Coming in 2017!
I HEARD YOUR DOG DIED: Story & Coloring Book
SIGN UP for our newsletter to receive a Pre-Order SAVINGS offer!
Curious about the dogs illustrated so beautifully in Carole Ohl's magical zentangle style in I HEARD YOUR DOG DIED: Imaginings for Those Who Have Lost a Pet?
All of them were real dogs who touched their owners' hearts in significant ways. Read their real life stories then grab your favorite pencils and color their full-page pictures in an 8-1/2" by 11" keepsake album. Imagine them whimsically in kaleidoscope hues or colorize them a bit more sedately by following their breed and coat color descriptions in the book. Learn Carol Ohl's process for creating the dog illustrations and follow her lead to create "tangles" of your own pets.
You'll learn about:
Hughes – the loyal Irish immigrant
Spatchy—the Corgi who lived up to his name
Tory—eternal optimist and real life Rambling Dog
Tinker—the blind dog who always found her way
Remy—the gentle soul who could calm a room just by walking in
Sadie—born to search and rescue…and she did
Emma—the dog who anchored love in her family
Shaba—the rescue who taught how to relish life's every moment
Lady—the foundling who came in on a cold winter's night and stayed to warm hearts
Chelsea—the gentle herder
Keesha—empress of all she surveyed
Lily—the pug who arrived with a manifesto who started a movement before she left
Read how Carole Ohl created these beautiful illustrations and follow her instructions to create a tangle or two of your own pet.

We'd love to keep in touch with you! SIGN UP for our newsletter and:
Get the first chapter of the book NOW and start reading.
Be the first to know when the I HEARD YOUR DOG DIED: Story & Coloring Book is released in 2017 featuring the stories of the dogs illustrated in the book alongside full-page renderings for you to color and make your own. You'll get a SPECIAL PRE-PUBLICATION SAVINGS offer and a FREE sample coloring page to enjoy until your book arrives.
Get alerts about blog postings about the book's back story, the dog stories, how to draw your own dog, grief resources and more.
Be first in line for savings on or next releases!
Save